Gazebo: A roofed structure that offers an open view of the surrounding area, typically used for relaxation or entertainment. That's the definition and what better description. So let us take a look at some outdoor gazebo ideas.
Soft Top Gazebos – A nice place to rest in the shade
I'm sure if you have ever been inside most of the big box stores in the spring, you have encountered a display consisting of a fabric topped gazebo and accompanying furniture. The first of these to hit the market were simple metal frame works on which you fitted its fabric top over the metal frame to form the roof. They start in sizes of around 10 foot x 10 foot.
These are not too difficult to assemble and if you have ever constructed a tent,  you could probably handle this assembly. Although these type of gazebos usually feature a two tiered top design to counter the effect of wind blowing them over, it is still a good idea to plan on anchoring it down. Which should not me a problem in most instances
These gazebos are usually rectangular in shape but often can be found in hex sided or other shapes.
Good and Not So good of Soft top Gazebos
Keep in mind also that this type of gazebo with a fabric top is usually not totally waterproof. Water will get the fabric wet and leech through in heavy rain and they some times experience water pooling near the lower edge of the roof, by the metal frame. This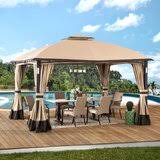 usually will not lead to unsurmountable problems. If you live in an area that gets snow, you will most likely have to remove the top in the winter to prevent damage.
Many of these type of gazebos will also come with screen sides and solid fabric covers for shade to increase your comfort level. The tops will need to be replaced over time. These can usually be found online for most models or you could research the availability of replacement parts before you decide on your purchase.
These gazebos are not very expensive and they will offer you many years of enjoyment. They also come in many different styles and colors to fit your taste. I have owned one of these for over 10 years and have been quite satisfied with it.
The Soft top Gazebo Version with Hard top panels
In recent years these type of gazebos have been produced with hard tops. The materials used to construct these versions can be aluminum, galvanized steel or poly carbonate materials. There are a lot of options for the material used for the roof panels including semi-transperancy, so you may want to do a little research to find what would best suit your needs.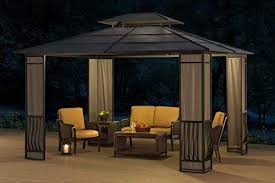 The assembly procedure is very similiar to the soft top counterpart, but of course vary by manufacturer. They also come with similar options like insect netting and side covers. These gazebos are waterproof with regard to their roof components. You may want to do some more research as to their capability of handling snow loads in areas where this is an issue.
Gazebos that can be assembled on site from kits
There are quite a few companies that offer gazebo kits with varying degrees of difficulty for the required assembly procedure. If you already have a patio or deck area where you would like to place one of these gazebos all you need to do is to detremine whether your location is suitable for your chosen piece.
I recently reviewed Fifthroom .com, a gazebo kit manufacturer. You can check out my review by clicking the link.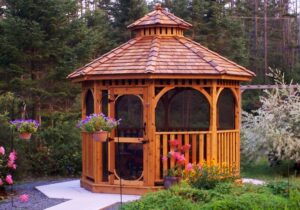 Some of these installations may require you to install or construct an appropriate base or foundation, as required by your local building department's regulations and the manufacturer's suggestions.  Many available kits are pretty basic and will not require a good degree of skill or know how.  In order to produce a pleasing, well constructed product you should be ready and willing to put forth some effort and get your hands dirty.  I have attached a link to assembly instructions for a product sold by a well-known home center to give you an idea.
 Click here for gazebo assembly instructions
Assembly Options – You do have choices
These kits range all over in the quality of the final product but most will give you a very nice looking addition to your outside area. You could also hire a handyman to help with the construction. Always feel free to contact me about any question you may have in these areas.  My years in the construction industry have provided me with much insight on construction planning and installation.
Many of these kits are quite detailed, producing beautiful results. You can pick out  options that suit your particular tastes. Some manufacturers will assemble the kits on site, if you would like. Check with your selected manufacturer for the availability of this service. Just remember to do your homework on this type of project because they can become quite expensive and involve your local building department in some instances.
I have attached a link to a kit provider that details some assembly procedures:
Click here for a gazebo assembly procedure
Gazebo built from scratch off plans
I do not recommend this route unless you are well skilled in the techniques of building wooden structures and framing. Regardless it is still fun to explore around online or wherever, discovering new ideas for your own project. I'm getting excited just writing about it. There is a wealth of sources for construction plans for gazebos, some are even free. Most are not very expensive.
I encourage you to look around the various sources for obtaining gazebo plans, as there are many.  They can provide you with some new ideas for getting the best result for your desired gazebo.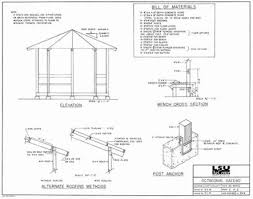 If you are skilled in construction techniques than this may be the way for you to go. In order to produce the most economic structure with endless design options a gazebo built from plans may be the answer. Looking around on the before mentioned sources will provide you with lots of options.
If you need more info leave comment below
Perhaps you could add some insight to less skilled readers about tackling such a project. As always please feel free to leave comment or question below. I hope this article has provided you some insight into selecting the proper gazebo for you outdoor space. Just researching this article has given me some great ideas for my own project. I'm hoping that I may be able to showcase such an undertaking in future posts. What do you think?
So get to it and start looking around at the wealth of info on gazebos. I'm sure it will peak your interest to look around a little and see what is available.