Plants are a simple way to spice up our surroundings. Most of us do not have the time to spend on taking care of finicky hard to grow plants. Here are a few easy outdoor plants that require little attention for great benefit.
Flowering Plants
Cosmos
These annual plants are very easy to grow and tolerate hot, dry drought like conditions. They produce bright colorful daisy like flowers and stay in bloom for many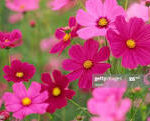 months, Summer through Fall. Few pests bother Cosmos, so they stay nice looking throughout the season. With little need for fertilizer or water Cosmos are truly maintenance free and will also self sow.
Cone Flowers
These perennial plants also do well in hot dry conditions. They are fast growers and also adept at self sowing, however they will take from 2 to 3 years to produce blooms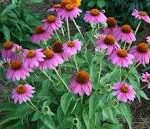 if you are planting from seed. They are more deer resistant than most plants and will bloom from summer to fall in full sun well drained soil. Cone Flowers can be found in a wide variety of colors.
Lavender
Lavender is a hardy, fragrant perennial often used as a low hedge or border type

plant. In humid climates it is often grown as an annual as it thrives in full sun hot, dry conditions. Lavender is most commonly known for it deep blue, purple blooms but can also be found in a variety of color. Bloom times will vary according to conditions.
Dianthus
Most are perennial, some are biennial or annual. Very easy to grow, spicy clove-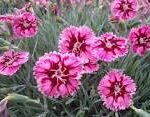 scented flowers in a variety of colors. Dianthus also ranges in available sizes from low growing ground covers to three foot tall upright varieties. The wide-ranging varieties of this plant are sure to contain one that will compliment your landscape scheme.
Ground Covers
Creeping Phlox
Creeping phlox is a herbaceous perennial with plentiful, densely packed spring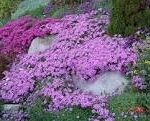 blooms. Each plant can spread out up to two feet achieving heights of under six inches. Creeping phlox is frequently grown in flower gardens and from crevices in rock walls. This plant will require weekly watering especially during dry conditions. It grows best in full sun.
Creeping Thyme
Creeping thyme is a low growing, woody stemmed perennial. It produces fragrant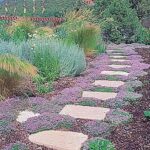 leaves with deep pink flowers from June until July. Other varieties produce white, pink, red or purple flowers. It rarely achieves a height of over three inches. Creeping Thyme will tolerate partial shade but does best in full sun. Creeping Thyme can be used as an edging plant or ground cover and is some times used to fill in between stones on walking paths.
Sweet Woodruff
Sweet woodruff is a creeping, mat forming perennial that works well in shady areas. It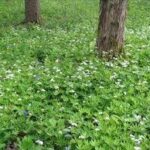 has star-shaped white flowers in the spring. Sweet Woodruff is very easy to grow, with fragrant leaves and rabbit resistant flowers. It is also a deer resistant plant.  Sweet Woodruff blooms from April to May, achieving heights from six to twelve inches and a spread of nine to eighteen inches. It is a great choice for shady areas, like under trees.
Liverleaf
Liverleaf is another shade loving perennial. Liverleaf has three lobed dark green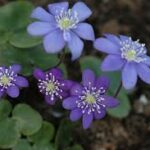 leaves that become bronze colored in the winter. The blooms are various shades of pink, purple, white and blue with a yellowish center. The seeds are planted in the summer in order to get the plant established for winter and blooms the following spring. Very little maintenance is required after the initial planting.
Shrubs
Candy Oh Rose
This is a broad leaf, deciduous shrub for use as a flowering bush with blooms from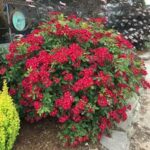 summer into fall. The dead flowers fall off naturally making room for new blooms with no dead-heading necessary. Candy Oh Rose is a deer and disease resistant plant that reaches heights of 3-4 feet with pinkish red blooms of about 1 inch diameter. They are best used massed together as hedges or borders.
Summerific Hardy Hibiscus
Summerific Hardy Hibiscus is a herbaceous perennial achieving a height of about 3

feet and a spread of about 5 feet. It has large bi colored flowers, 7 – 8 inches across that bloom late into the season. The blooms are a deep reddish pink in the center surrounded by a lighter pink color with dark veins. The foliage is very dark, highlighting the colors. It dies back to ground level in the winter and reemerges in the late spring.
Oakleaf Hydrangea is a flowering deciduous shrub with leaves in the shape of oak tree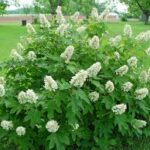 leaves and white flowers in large cone shaped clusters. It has beautiful fall colors and long-lasting flowers. They achieve both a height and spread of 4 – 6 feet. Their large leathery leaves turn fall foliage colors of red, purple and an orangey-bronze.
Evergreens
Moonshadow Euonymus
Moonshadow Euonymus is a small perennial evergreen shrub achieving heights and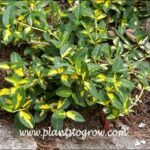 spread of 1 – 2 feet. It has small, oval-shaped leaves with green centers and yellow edges. It forms a slow growing mat. Several can be planted as a low hedge or singular as a perennial bed accent piece. It also does well as a container plant.
Mountain Laurel (Kalmia latifolia 'Minuet')
This cultivar is a dwarf, growing to a height and spread of 2 – 3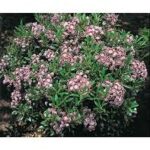 feet. This plant is not as large as the mountain laurels that you are probably familiar with here in the Northeast. It also has more colorful flowers. This Mountain laurel blooms in mid June with colorful clusters of pale pink blooms with a broad red ring. It can be used in groupings or as a container plant. They are deer resistant.
Winter Heath
Grows in mounds 6 – 12 inches tall and 18 inches across. They bloom heavily for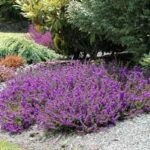 weeks from early to late winter. This perennial will form a dense ground cover over time. This plant is disease and pest free and ignored by deer. They are used as edging, ground cover and patio container plants. Very easy to grow and low maintenance.
Small Sampling
This is just a small sampling of easy outdoor plants. I just wanted to give you a place to start. I'm sure some of these plants could work very well in your particular setting and I have chosen all of them mainly for their ease of care and maintenance.
As always please feel free to leave comments or ask questions below.