I did a post a little while ago about gazebo planning. I know it was fun for me and if it got you thirsting for more info as it did me then check out this site, Fifthroom.com. In this article I will focus on Fifthroom gazebos.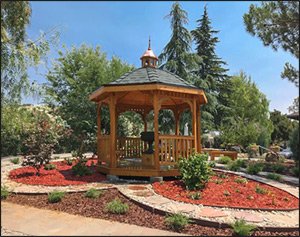 Fifthroom.com
Fifthroom was started as a small store opened by Tim McTighe in the suburbs of Pittsburgh in 1992. He sold western red cedar outdoor furniture. In 1999 Tim branched out on the internet and launched CedarStore.com.
As Tim's reach increased so did his products and web presence. The business began making many outdoor products such as bridges, dining furniture and gazebos. They launched Design Wizard in 2008 which allowed their customers to design their own gazebos.
They continued to apply this design friendly process to their other products increasing demand and product lines until at one time they operated five separate web sites from which their customers could design and buy their products.
In March 2011, Fifthroom.com  was launched to unite the five different sites under one heading from which they could manage and sell all their products.
Gazebo Selection Process
To start off the selecting process of your gazebo at Fifthroom you can either choose from the custom gazebo creator or a gazebo package.
The gazebo package starts you off with at least 36 designs. These starter designs are with many types of building materials like cedar, vinyl and more. Once you select one of these designs, you are presented with your size choice. After selecting your size, the next page will offer you stain, deck and roof material options.
There will be a price with your selected options and a form to fill in your information and get a shipping quote as your last selection.
Using the Custom Gazebo Creator
When you choose to use the creator you will start off selecting your material from at least five: red, white and rough cut cedar, pine or vinyl. On the next page you will select your roof style and there can be many. After selecting your roof style you will be presented with a size selection and then on to the final page again with your stain, deck and roof material options, along with price information as before.
The gazebos have many choice options for selecting the materials for the different parts of your individual unit. You can choose three kinds of cedar and either treated pine or vinyl for the basic structure material.
You can choose between Oval, Rectangle, Octagon or Octagon Belle roofs and eight-sided roofs. Customers also have the option of selecting a double roof on some of the previous selections. There are a wide variety of overall sizes along with different selections of materials for decks, stain and roofing materials. Whew! I'm out of breath.
After you have made all your selections you can print out a summary that includes all your projects picks and a picture of your selected gazebo. This is a neat feature for making comparisons to other products.
Shipping and Assembling
The kits are shipped on pallets with plywood barriers and boat wrap to keep everything dry. Most gazebo kits are shipped through motor freight. The company will inform you when the kit leaves the warehouse and provide you with tracking information.
With standard gazebos the separate pieces should not weigh more than 65 to 70 pounds each. In some areas the gazebo can be shipped fully constructed for no additional fees.
The site where you wish to place your gazebo should be prepared similarly to when you are having a shed delivered to your home. Check with your local building department for any requirements you may need to satisfy local codes. The gazebo can have 4 x 4 runners under the floor as an option to aid in leveling on compacted stone bases.
The kits are designed for quick and easy assembly. Some pieces come in pre-assembled marked sections. All the railings come fully assembled. The roof also comes in pre-assembled sections with the work done on metal roofing and cedar shingle roofs. Project advisers are available by phone, Monday thru Saturday.
Fifthroom also offers the services of installation crews throughout the Northeast. This does not include any site preparation.
Site Preparation
Sometimes the site you select for your gazebo will be on an existing deck, patio or perhaps you have installed a concrete base for your building. A gazebo can be placed on top of one of these existing elements providing it meets the conditions necessary for a good solid attachment. This can be determined from information on the website or by contacting customer service.
A gazebo that needs a deck presents you with a few more choices. You can choose a treated lumber or composite deck board material in 4 colors for your gazebo floor.
                                  !!!!!!!!Check out Fifthroom.com here!!!!!!!!
Customer Service
Fifthroom offers a Limited lifetime warranty on all their structures, the details of which, can be found on their website.
Customer service representatives can be contacted by phone, email or live chat. Customer service gets high marks for responsiveness. They can answer questions as to ordering, payment methods, shipping information and damage complaints.
My Take
I think it is safe to say that you are going to get a well constructed product of very high quality materials. Most of the reviews seem to indicate that there are little to no negatives when it comes to the quality of these products.
When it comes to the actual delivery there do seem to be some issues. Many of these issues deal with problems coming from the delivery company or carrier which cannot be laid on the shoulders of fifthroom.com but is something you should keep in mind when ordering this product.
You will be dealing with heavy lifting when you choose to go with a self assembly. Although these gazebos are designed to be easily assembled , expect the unexpected when you take on any larger type construction project. That being said roll up your sleeves and jump in as it can also be an enjoyable experience.
http://