For most of us a big part of the whole patio/deck experience is cooking our meals on a grill or something similar. For that reason I have decided to look at some outdoor cooking area ideas to help us plan for an entertaining cooking area.
Planning
Planning out our outdoor cooking area ideas can be fun. There are loads of things to look at on the internet. It need not be a bank breaking event to build an area that we can enjoy with our family and friends. For that reason for this post I just wanted to create a window shopping experience to get us started on the planning phase.
Let's see what others have done and perhaps we can take some elements from their areas to use in our own.
Cooking
Most of us are used to seeing the typical three burner gas grills with about 500 sq, inch cooking area. This is a very popular and fulfilling choice. There are some other choices though, so Let's take a look.
Firepits are a very popular item in today's outside entertainment areas. They can also be used for cooking with some very interesting accessories that are available to us.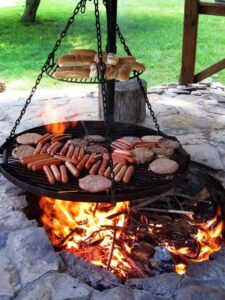 We may not have in mind something as elaborate as this pictured item. But doesn't it just look so inviting ?
Smoker grills are also becoming quite popular these days. It involves a long cooking process for adding smoked flavor to our grilled meats. Many people enjoy this almost as a hobby. Smokers can create an interesting opportunity for us to incorporate them into our outside dining area adding the additional benefit of delicious aromas.
Pizza ovens are another item gaining in popularity. I have a feeling it is fueled by a certain niche in the population but I am sure for those who want one they are satisfying. You build a small fire in a specially designed oven and cook your own homemade pizzas in them. I believe you can buy some of these ovens online and there are also numerous descriptions on how to build them online.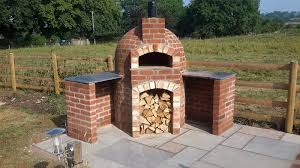 They would definitely make for an interesting area of entertainment on your patio. Take a look at this entertaining clip on how to cook a pizza in one.
I'm thinking about building one of these ovens myself as it seems to be a pretty simple process. Maybe I will film the construction to share this building experience with you. What do you think? would you like to see something like that? Let me know in the comments below.
As you can see the method of cooking alone raises endless design opportunities. By using one or more of these unique items we can certainly create a conversation piece in the process. Most of us like to join in on some food preparation activities and by placing one of these unusual cooking items into our outside space we invite our friends to get involved and have fun.
Dining Areas
The simplest yet equally comfortable way to set up a dining area is by using a gazebo with a fabric top and to furnish it with your own outdoor furniture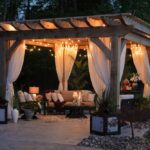 selections and lighting. We have used a set up like this for years and I find it quite satisfying.
You can set up a table and combination of chairs in any configuration with or without cover and create your own unique area. Take advantage of any natural settings on your property for interesting effects. Try to incorporate the seating area in your layout to take advantage of sharing in the cooking experience. Bistro sets can be used to take advantage of unique spots on your patio.
We can design the cooking space so that it has table surfaces looking over the cooking area. The guests can be seated facing the cook top to be engaged in the cooking activity. Many configurations of this concept can be implemented into your design to take advantage of nearby items in your yard such as pools, gardens or water features.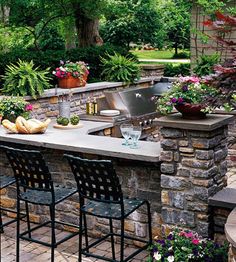 If your patio design incorporates a unique cooking item such as a pizza oven try to showcase it to dining guests. Be mindful of smoky conditions. You do not want to chase away your diners.
Bars
Again you can purchase some interesting finds online. There are nice small sets that you can buy and they can fit perfectly in that small area of your deck or patio that is calling for a unique arrangement. You can create an intimate little side area that still keeps guests engaged with one another.
If you chose to create a bar, there are lots of choices. It can be incorporated into the cooking area itself, creating a space where your guests can relax while conversing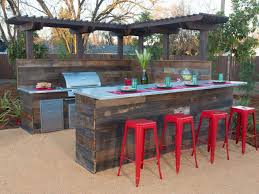 with the cook. There are many options for including the same amenities as enjoyed in your indoor kitchen, such as refrigerators and sinks. A very functional and entertaining area can still be achieved with less.
A standalone bar can be tastefully decorated and accessorized to become a conversation piece of its own. It could be a purchased item of which there are many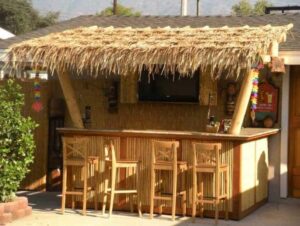 styles to chose from. The bar could also be crafted of your own handiwork, using items and materials that add fun to your space.
Setting up a bar/kitchen with all the amenities will allow you to concentrate your entertainment area into a smaller area. This will also allow you to keep some kitchen supplies close by so that you do not need to continually go into the home to retrieve more cooking supplies.
When going with built- in kitchen areas, there are many materials from which to choose from. Many manufacturers offer sinks, grill tops and the like for express use in a built- in unit. The simplest design often times includes the use of landscape block which can be installed almost anywhere with little below grade foundation needs.
These units can also be built from wood or natural stone for getting the look you desire.
I hope you have found this post helpful in getting your outdoor cooking area ideas off the ground. Please, if you have any ideas to share or would just like to comment on any of the things I have touched on today, leave your comments below.
Thank you!