OK, Summer is almost here. This post is a review of a Sunjoy Gazebo that is affordable for most of us and is possibly a good fit for using in your back yard. So let's get right to it and see if this item may work for you.
Sunjoy D-GZ076PST-D Madison Pavilion Hex Shape Gazebo
The Sunjoy Madison Pavilion gazebo is a soft top gazebo that you have to assemble at your site. These soft top products are popular with people who want a simple and quick shade structure for there patio or deck.
The footprint of this product will cover about an 11′ 5″ x 13″ 2″ area. It is a hexagonal shape ( 6 sides) with a railing attached to 4 of the sides. There is also a fold out shelf on one of the four sides. It is of the two-tiered roof design which affords this product more stability during windy conditions.
It comes to you unassembled in a box with assembly instructions. You get 6 corner posts, 4 railings, 6 upper frame pieces, 1 shelf piece, 6 upper roof supports, the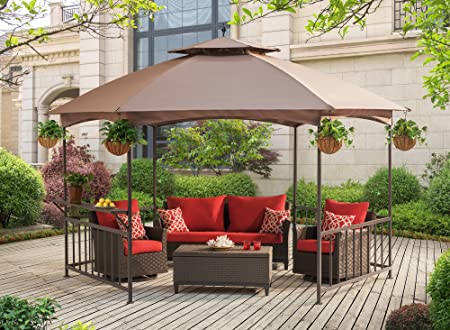 upper roof support structure pieces and the required assembly connectors. Oh and of course, the fabric top.
The frame pieces are steel and aluminum with a powder-coated finish. The soft top is a water resistant fabric and its main use should be as a shade providing structure.
This gazebo comes with a 12- month manufacturers limited warranty.
Is this Gazebo for you ?
First off you will have to want and be able to put this product together. It is shipped to you unassembled in a 165 lb. box through a free scheduled delivery. It comes with assembly instructions and assembly should probably be done with two people.
This gazebo makes for an attractive back yard structure with the railings help in defining its footprint and a shelf for added appeal. The cloth top is not waterproof but it is water resistant. My experience with this is that they will keep your furniture from becoming soaked but you should not expect it to shield you from the rain. Soft top gazebos are best used as a shade provider in a sunny location.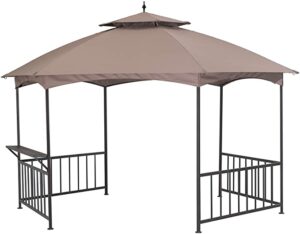 There are numerous locations about the roof line from which you can hang plants to increase its appeal. Add a little lighting and you can enjoy a comfortable retreat in either the night or day. There is no side cover or netting with this particular product.
If you are looking for an affordable product that looks nice and will shade you from the sun without all the bells and whistles than this may be an item for you.
What about the assembly?
The pieces come well protected with many parts individually wrapped with bubble wrap. You will need two people and a small step ladder to make the assembly move along in quick fashion. Customers have stated that a two hour assembly time is to be expected.
The included assembly instructions are mainly in illustration form and are quite easy to understand. In a nutshell, you attach the posts to the upper frame pieces attaching them to one another, forming the bottom structure. You attach the railings and shelf to finish the bottom structure. The assembly is finished by attaching the roof frame parts and then you stretch the fabric top over the top.
The two-tiered roof allows under drafts of wind to escape without lifting the gazebo. This is a good feature but you should also be sure to anchor the gazebo down because the roof vent alone will not keep the gazebo from being blown about in all conditions.
It seems that some people find it difficult to pull the last corner of fabric over the roof beams. I have found that when this is the case, it makes it easier if you press in one of the snap connector silver buttons and allow the piece to slide into the fitting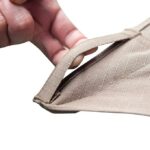 making it a bit shorter. Now pull the fabric over this shortened piece, then pull the frame piece out until the button snaps in.
The canopy is equipped with exterior loops at the corners to make the attaching of the fabric top easier.
Cost
If you are looking for an item that does not break the bank a soft top gazebo may be what you are looking for. It is not a stretch to say that a cloth topped gazebo can improve the looks of your outside space. I know when I put the top back on my gazebo after winter every year I am always impressed by its great look.
The next step up from a soft top is a similarly built product with hard top roof panels. This option can add as much as one thousand dollars to the cost of a gazebo, if not more.
I have had my gazebo for over 10 years and it still looks great. I have replaced the canopy one time which is a low cost maintenance item that you will eventually require when you keep one of these for an extended amount of time.
Check with Sunjoy about replacement canopies and possible screening or side cover by calling 1-866-578-6569.

Where can I get one?
Sunjoy D-GZ076PST-D Madison Pavilion is available online through Overstock, Amazon and other online retailers. Free scheduled delivery is usually included if you go with this option. It is also available from retailers such as Tractor Supply as an on line purchase.
So there you have it
As I have mentioned, I have had a soft top gazebo for at least 10 years now. Its simplicity and price were the factors in my decision to buy one. I have found it to be a good fit for my home. They really do look nice, especially when you accessorize them with plants and lighting.
The one problem I did have was when I first got it, I did not realize that heavy snow loads would collapse the top. This led to me having to make some repairs the next Spring. People that live in snowy areas should plan on removing the top each year before the first snowfall. This is not really a big job.
So if you decide to go with this project you can check the price here and see if it fits your budget. It is worth your while to take a look.
         !!!!!!!!!!!!! Check out The Sunjoy Madison Pavilion Here!!!!!!!!!!
Have you had any experience with this gazebo or a similar product? If so, I would love to hear from you in the comment section below.