Chances are at some point in the day you are going to have sun shining intensely on some area of your patio. When you want to stay cool in this area, consider some of these patio shade structure ideas.
Shade Sails
These are the simplest solution. They usually consist of a triangular shaped material like high density polyethylene. They have attached cords that you simply tie to surrounding items lie a tree a post or part of your home. Not always the most practical solution but they work in a pinch.
They also come in lots of colors and most are waterproof. They are very inexpensive.
Umbrellas
I'm sure if you have ever owned an outdoor dining set you have probably owned an umbrella that covers the table area. These usually can crank open-and-shut and do a great job shielding the table from falling leaves, etc. They come in many colors and fabrics and the quality of these can range quite dramatically as well.
You could also consider an offset hanging umbrella. These consist of a pole installed on a heavy base and the umbrella hangs off one side of the pole supported on an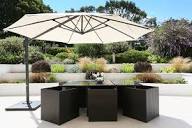 overhanging arm. Some of these can be adjusted into many positions to get the most shade possible.
Again, the quality is quite varied and if you are buying this item online make sure the base is included, as some are not. These also come in lots of colors, styles and fabrics.
The main benefit of these over a regular umbrella is that there is no pole in the middle, freeing up valuable space beneath the umbrella.
Gazebos
The starting point here would be the steel framed Gazebo with a fabric top. Most have screen walls to keep out insects, which can be a big advantage in many areas. They come in sizes ranging from 10 foot x 10 foot and up.
You will have to put together the metal structure consisting of at least four corner posts and the roof support pieces. This is usually not too complicated. The fabric roof is then stretched over the top of the metal. These are a nice option and work quite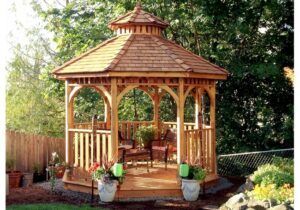 well, fitting in most any ones budget.
The roofs are not completely waterproof though, so plan for that accordingly. You will also want to be sure to remove the fabric roofs on these structures in the Winter time, where it snows. Some of these structures could be damaged by the weight of collecting snow.
Do not be put of by these structures. They are manufactured by many companies and can be quite versatile with the use of screens and plants to give it appeal.
When it's in the budget, having a custom Gazebo built is quite the undertaking. You may need to install some type of base or foundation in some areas. These structures can be quite striking and will probably be the focal point of your patio.
There are many options if you choose to build a gazebo. You could have screened in sides or half screened sides. It could be wide open, with just the posts supporting the roof. The design element is endless here and you can really make it a centerpiece.
Pergolas
Pergolas are similar to gazebos and the choices are similar as well. You can get a pergola kit, just as the gazebos discussed before, with metal structure supporting a fabric top. In this case, you can also have a retractable top, which is a nice option. Some of these metal frame structures have fabric roofs that can be adjusted to give you the most shade possible.
On both pergolas and gazebos you can sometimes place a shade screen on one or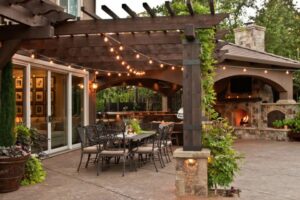 more of the sides. These screens can be placed and moved in the areas where the shade is needed the most, at different times of the day.
With a wood framed, more permanent pergola structure, you can train vine type plants to grow over the top, providing some shade and your own unique look. This will surely create an area with a great relaxing feel.
Awnings
If your patio is right next to your house, as many are, you may be able to take advantage of this situation and have a retractable awning installed. There are many contractors available to perform this type of installation for you.
These come in many styles and colors. You can crank them back out of the way, against the house when they are not needed. This can be accomplished by hand cranks or electrically. This can be a great feature, where space is limited.
Plants
Plants are a great way to create shade for you patio. This is a great time to get creative and enhance the beauty and personality of your patio area. A well-placed arbor with a vine plant such as wisteria is an easy and attractive addition. Planting high shrubs or rhododendron type plants can also help to achieve the same effect.
You may also hang plants from the sides of your gazebos and structures to obtain a bit more shade in certain areas. Just make sure to pick plants that are suited to the sun conditions of these areas.
Get Creative
Perhaps you would like to create an island feel on your patio. Installing a tiki bar with a palm thatched roof and maybe some strategically place palm thatched umbrellas could give you a great vibe and keep shade where it is needed. Using pergolas with roman shades will also keep you cool with less worry of wind.
It's all up to you. Pick a theme and run with it. The more you investigate, the more you will find creative use of everyday objects. Make your patio shade structure ideas come alive.
Add sails off your bars and cooking areas to make for great visual appeal and provide a bit of comfort. Plants and the outdoors are meant to be. Take advantage of the many and unique plants of your respective areas, to beautify and functionalize your patio.