In keeping with my fondness for small DIY projects to be used in creating a little more pleasantness to our outdoor living spaces. I would like to show you a neat little product that will make a splash. A solar bird bath fountain.
Solar Power
Solar powered accent items seem to be everywhere these days. I'm sure most of you have probably had solar pathway lights along your sidewalk or driveway at some time or another. The compactness and no cord required installation make these very attractive to the homeowner.
The countless designs of these lights will fit in with all of our particular tastes. I have installed motion detector lights along the pathway to my home at intervals that cause them to come on and light the pathway as you approach or leave the home. It is a great, easy to install safety feature for any home.
The ease of setting up a solar powered component is at the heart of this project. Perhaps it will give you some incite for the creation of some other outdoor projects.
The Project
This project is about as simple as it gets and I do mean anybody can do this, no doubt about it. The main requirement, as with any solar component is that it must be placed in an area that receives ample sunlight. This project will look nice just about anywhere, so finding a place for it in the sun should be feasible.
All that is needed is a bird bath, solar fountain and water. Did I not tell you that this was going to be easy? If you all ready have the bird bath, then your already half-way there. Just get the fountain.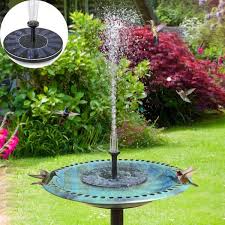 For the folks who decide to create a landscape background for this project take advantage of features already in your yard. Set up near an interesting rock feature or create your own by placing stones from your property in interesting patterns. Set it up near your garden and arrange some plantings about to accent it.
The Fountain
Amazon sells a few different kinds of these fountains but the one that gets the best reviews is the Viajero Latest Upgrade. It combines it's 2.5 W solar panel with an 8maH battery to give you an uninterrupted spray in most sun conditions. It has built in safety features to protect the pump if the water runs dry or the pump gets blocked by debris.
This fountain comes with 4 nozzles for different spray patterns. It also has a 30 day no question refund policy.
Set Up
Place your bird bath in it's desired location. Remember it should be a particularly sunny location, preferably receiving at least 3- 4 hours of direct sunlight per day. You can try in an area with less sun though, after all if it doesn't work there all you have to do is move it.
The bird bath should not be too small. If left to float freely, the fountain will probably end up near an edge allowing some water from the bath to land outside of the bath. Check out some videos on Amazon to see the fountain in action.
If you do not have a bird bath, you can check out one here or look around at some others while you are there.
The fountain pump is activated by sun light so when you take it out of the box be prepared for possible pump noise. Remove the fountain and select your fountain spray head than place the fountain into the filled bird bath. The fountain will float on the water. There are small suction cups on the bottom to hold it in place however they do not hold very well. If you would like to keep it centered, some strategically placed river rock could do the trick.
If you would like to accent the set up, colorful river rocks or glass accent stones like those used in fire pits can be arranged around the bird bath in interesting patterns. Just be sure not to take up too much water space or use too fine of a stone near the fountains pump intake.
Make the fountain a center piece of a rock garden or arrangement of plants. This is really an easy project that can add a lot of appeal to your patio, deck or just plain anywhere.
Remember that you will have to add water occasionally due to evaporation and splash out. The fountain pump is removable for easy cleaning but if you just rinse it a little when filling, it should be pretty much maintainence free.
Show your creativity
A bird bath does not have to be the base of this project. Anything that holds water is a suitable place to float your fountain. Large plant pots could make for eye-catching fountain bases in a landscape scheme. You may just have to seal any drainage holes with silicone sealant and a patch.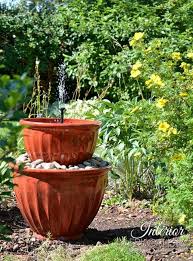 The fountain works fine also, standing alone in any water feature that you may have on your property. You could place it in your pond or pool. The bottom line, have fun with it. This project could be as simple as dropping the fountain in your pond or a little more complex by adding surrounding plant and stone features.
Enjoy
I hope you find this project as fun and as simple as I hope that you might. It could be a family team effort in creating a lively spot outside your home. As always please leave any comment or questions you may have about this project below. I would love to hear from you and perhaps have you share some of your project ideas. I would very much enjoy getting any comment.
I wish you the best and hope that your new fountain gives you a few more stress free moments relaxing in your yard watching the birds enjoy your creation or just simply gazing at the pretty site.