In this post I am going to revisit a previous post about the use of small spaces with a review of one of the patio bistro sets from Giantex.
Good Use of small space
A patio bistro set most often consists of two chairs and a small table. They may be used as an accent piece to create eye pleasing use of space on your deck or patio. In small spaces a bistro set can make a very functional dining area to take advantage an otherwise tight area unsuitable for a large dining set.
Bistro sets run the gamut of all styles and materials, from wicker to cast iron, high seat and low. I came across this three-piece set by Giantex, which is ideal for tight spaces. I would like to review it for you here.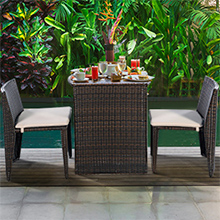 Giantex 3 Piece Outdoor Cushioned Patio Set
Table: 26"L×20"W×29" H
Chair 1: 18.5″Lx17″Wx27.5″H
Chair 2:15.5″Lx17″Wx26.5″H
Material: Polyfiber, Sponge, Steel, Wicker, Tempered Glass

Weight Limit: 260 lb. / chair
Color: Brown
Warranty: http://www.giantexer.com/warranty-and-returns/

Where
This set is ideal for those decks or patios that may present a challenge for other bistro sets or larger dining sets. The chairs snuggle under the table when not in use to further enhance it's compact design while still providing ample room for the users comfort.
It's water resistant materials are suitable for most outdoor applications so it does not have to remain under cover. It's a great design for use on a balcony where space-saving is essential.
What
This Is a three-piece set. The set is steel framed with rattan woven wicker design. It's table is topped with tempered glass and features rounded corners for comfort and ease of use. The table top fits two dinner plates and two glasses.
The chairs are topped with off-white polyester cushions. Cushion covers can be removed from the cushions for machine washing. Seat backs are curved and comfortable. They also have a convenient carrying handle built in for ease of moving the chairs. All exposed materials are easy to clean.
Each seat will support a user of up to 260 lbs. They are soft and comfortable with about a two inch thick cushion. It may not seat a taller or otherwise larger person with the same degree of comfort.
The only assembly required with this set is to place the cushions on the seats upon unpacking. Customer Service seems responsive and adequate from some reviews I have read.
Use
Very simple to put in use. Just take it out of the box, set it up in your desired location and put on the cushions. Storage between use consists of simply pushing the two chairs close together under the table. Some folks have found that the seats do not fit entirely under the table however it still maintains a compact profile. The seat design is such that one chair is slightly smaller in height than the other so that it may slide under it for a more compact fit.
Very easy to keep clean with the removable cushions, glass top and rattan wicker surfaces. These weather resistant materials also make it ideal for outdoor use. The set could also be used inside as an extra seating area for guests in a small room.
Apartment balconies usually do not provide a real lot of space. With this set's small size you can sit on your balcony and enjoy a cool drink or lunch with a friend.
It does only come in one color but it will fit in with most outdoor settings. Some reviewers say they have owned it for over a year and it still is in good shape. Most owners seem to feel that is durable, resists weather damage and holds up well.
Reviews for comfort are mixed but seems adequate for most users.
My Take
After studying the set and reading all the reviews it seems that when it comes to patio bistro sets this ranks right up there with the rest.
It is of smaller stature than probably most other bistro sets, but I feel this is the niche that this set is trying to fill in order to give folks an attractive set that works in small spaces.
The set has a contemporary stylish look, easy to keep clean and holds up well over time. It is thoughtfully designed for compactness when not in use further increasing its attractiveness for use in tight spaces.
The warranty and return policy could be a little better. That being said, the set seems to be durable enough to hold up for a good amount of time.
The reviews seem mixed when it comes to comfort. Some reviewers feel it is not adequate for adults. Other reviewers actually take exception to that comment and feel that as bistro sets go this one is in the proper size range. The general consensus seem to be that for average size folks this works just fine.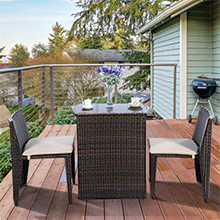 Your take
If you have this set, please feel free to leave a comment below on your experience. Anyone who may like to learn more information about this set or how to purchase it may simply click on this Amazon link.
.