Trying to manage your outdoor dining sets and small spaces can be a challenge. But there is sure to be a solution if you get creative and do your homework on whats out there.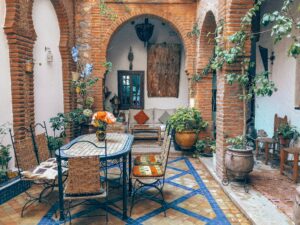 The Space
You really love to dine outdoors on occasion but your space is limited for  setting up your tables and chairs. First thing we need to do is examine the space and determine the obstacles.
If it is a narrow space confined by walls or other obstacles you will not be able to use a large multi seating set. Perhaps you would consider using small bistro style seating possibly with high chairs. The elevated seat would make the space seem less constricting.
A couple of small tables with one to two seats, each placed close enough together would still keep you and your family or guests engaged with each other. Placing the seating in such a way as to keep the guests facing the other tables if possible.
If your space is constricted by hilly contour you may be able to provide a raised patio area to deal with the uneven area. This can be done by incorporating planters in key areas, of various materials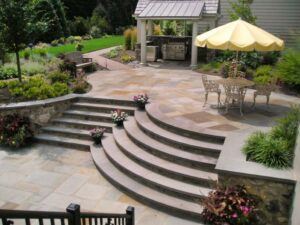 and than leveling the area between.
Hilly terrain can also be overcome by forming a two tiered patio with steps from one section to the other.
Is the small space a structure that your trying to fit your dining set into? This is a difficult problem to overcome. Without changing the structure, you will probably need to get a smaller set or do something like in the narrow space solution.
Furniture Options
There are a lot of options in Bistro sets. These sets also provide a cozy, warm feel to your Dining area. The tables are small yet adequate. A nearby bar or cart could serve  to table some food.
Speaking of bars, a narrow space could lend itself well to one, with all the  seating on one side. When the space allows, it could be used as bar with the rear accessible to a bar tender. When the space does not allow, it could still be used like a kitchen bar with creative accessories at the rear.
For very limited areas a folding bistro set may work for you. You could quickly set them up as needed and fold them for placing out of the way when you are done. Folding chairs in conjunction with a dining table may be the solution for a set that does not fit in your patio footprint.
A couple of small round 3-4 seat dining sets may fit your space better than one large 6- 8 seat set.
Planters or walls
Adding planters or walls in strategic places about your patio can definitely increase its useful space. When a small drop off at the edge of your patio is the culprit, a planter or wall could be built even with the top of the patio surface. This will allow for extending the patio surface enough to accommodate your dining furniture. For a planter it should be built wide enough to extend the patio surface enough to allow for your plantings also.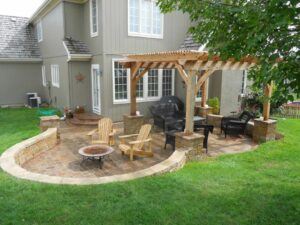 When the culprit is the ground getting higher at the edge of your patio, a planter or wall rising out of the ground far enough back to allow you to achieve a level patio surface for your dining set will give you the room you need.
Planters do not have to be looming megaliths. They just need to flatten your landscape and with creativity, add some flair.
Patios and uneven ground
When you are installing a new patio on a sloping landscape, construction can get tricky. The usual solution for this is to first install a wall along the lower perimeter and to fill behind this wall with material to even the top of your patio surface with the high side of the patio.
Terrain with steep sloping hills may require a two tiered approach where you actually have two levels of patio with stairs connecting them. This can make for a very unique and aesthetically pleasing patio.
If the patio raises far enough out of the ground it will require planters or railings along the lower side for safety.
Built in seating
In areas with accessories like fire pits, built in seating can help with traffic flow and making the best of limited space. A seating area built into a raised patio wall along the edge of a patio could provide some freed up space.
Gather Ideas
Try visiting some area Taverns or Dining Establishments with outdoor dining and see how they solve some of their outdoor seating arrangements. They tend to get creative in fitting as many tables as possible into their seating areas.
Visit yard sales and flea markets. It is quite possible you may come across a piece that is exactly what you need. Search patio furniture sites online. They sell many different styles and you may see something you had not thought of.