Hi my name is Rick. I would like to help people make their outside spaces more comfortable and relaxing with my outdoor patio decorating ideas. I have been a Mason Contractor for over 30 years, so I know what and where things work well on your patios. Let's help you design and furnish your patio in a way that you may never want to leave it.
A Great Location Makes a Great Patio
Even with the best outdoor patio decorating ideas in hand a poor location will make a challenging comfort zone. Most patios will benefit, comfort wise, from making use of shade and sun. It is not going to be comfortable spending a hot afternoon on a patio that is being inundated with blazing sunshine nor will it be to your advantage if you wish to use your patio to drink a nice hot cup of coffee in the morning while shivering in morning shade. Try to use sun and shade to your advantage when considering design elements and location in your patio construction.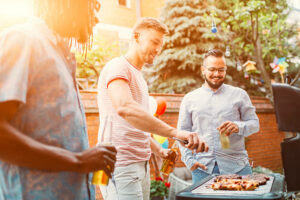 Naturally some times it is just not feasible to change where you want to build your patio. Yet if you incorporate certain structures and fixtures into your patio with consideration of sun and shade from the beginning I'm sure you can make a very comfortable patio.
Patio Structures can help your comfort
Whether your patio is of pavers, concrete, stone or any other material is pretty much up to you and all have their advantages. When deciding upon your outdoor patio decorating ideas a lot has to do with cost, durability and room. You don't want to place tables, seats and such on a patio and take up so much room that there is no way to get around them. You want to place a fire pit where it will give you the most benefit of warmth and not smoke out your party. Gazebos or trellis structures can be placed in such a way as to provide shade in a sunny location.
Hardscape Design Elements
One of the most common fixtures desired in outdoor patio decorating ideas is a fire pit. It is no wonder as we are all comforted by the glow of a fire while relaxing with family and friends. These items can get as simple or complicated as you would like. The following lists are all things to consider in your fire pit.
Fuel ( wood or gas)
Built in or Portable
Seating
Size Bigger is not always better
Another item that is well desired is a gazebo or similar structure. It is nice to have a place where you can retreat from the elements when necessary. These can also be very different according to cost, size and permanence. There are lots of small structures with cloth tops that provide more than adequate function while also not losing anything in the appearance category. When you can afford the expense of having a structure built in place your design ideas are endless.
A trellis structure with a grapevine type planting can add a more natural appearance if you are maybe looking for just a sun screen. These are probably more challenging to develop than a gazebo type structure.
A barbecue area is probably just as desired as a fire pit. These can be built into an outdoor patio design ideas original concept or built into your existing patio if you chose a built in masonry type structure. Some of these items today even have wood fired pizza ovens, sinks and other kitchen type amenities built into them. It is no wonder these have become so popular with todays homes open kitchen designs for entertaining our guests.
Old or new it doesn't matter
Whether your patio has been around for a while or you are just coming up with some outdoor patio decorating ideas for a patio you just built or are planning to build the choices are limitless for you to come up with a great looking patio. Most older patios can be cleaned up with a pressure washer. As I said before it is not that difficult to add a completely new design element such as a fire pit or outdoor cooking area. The work is usually well worth the effort.
New patios can be built of many materials.
Concrete Traditional or Stamped
Pavers Virtually hundreds of choices
Stone Durable and Natural
There are also all kinds of small things you can do to improve your patios appearance and comfort. Theres lighting of all types from tiki torches to solar powered led lamps. You can replace your furniture or simply buy new cushions. Alot of folks like to place signs on things around their patio to give it a humble feel. These can be vintage items or reproductions.
Here to Help
The important thing to remember is to make it fun. This is not supposed to be a stressful undertaking. This is going to be a place for you to put your feet up and relax when you need to be recharged.So if you are just looking for a place to find a few small items to help spruce up your patio or you need advice on selection of materials or fixtures or seating arrangements feel free to stop by and leave comment. I would also welcome your outdoor patio decorating ideas to help anybody here who is working to make their patio that much more comfortable.
So lets get started. Leave comment on anything you like. I cannot wait to hear your ideas or to help you with yours. And maybe we could both be aided by suggestions from others. Thanks for taking the time to read this post and heres wishing that you find all you need here to get you on that patio.