Sitting and relaxing with friends and family is what its all about. Putting together outdoor patio conversation sets is easy and well worth the effort.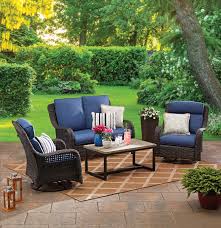 The Spot
The first thing you want to accomplish here is to determine what unique elements of your patio site you would most like to take advantage of and place your outdoor patio conversation sets for the best possible result. It could be that one particular area of your patio is the most exposed to a fantastic view.
Maybe you and your guests love to share in preparing and cooking meals. So you already have a wonderful cooking area, possibly you could set up your set close to this area to take the fullest advantage of keeping your guests engaged while you prepare meals.
People tend to gravitate toward fire. There are literally thousands of choices for fire pits. Also, you could have one custom-built to take advantage of your patios particular positive elements. So you want ease of use but still a stunning conversation piece, I am sure you can find a manufactured fire pit that suits your needs.
Water is another pulling force. The soft sound of lightly splashing water is very soothing for many of us. Again this is an item that can be as large or small as your needs or desire. You probably would not want to set up outdoor patio conversation sets near a large waterfall water feature which would defeat the your ability to converse with friends. There are many possibilities from small pools of water with a fountain or such, to a large pond with relaxing features.
Plants are another element that are great conversation pieces. Also, they do not have to be complicated designs. A few unique potted plants in unique pots are great conversation pieces and also a relaxing background piece.
The Spot is picked
Once you have decided on the area you would like to take advantage of you must decide if it will accomodate the furnishings you plan on using at the site. When you have a large flat area, all you need to do is pick out the set.
When your area is compromised by not enough room, then you must decide if it would be possible to increase the size of your patio area or if it is still large enough to just find compromise in your furniture selection. It is always better to get a little more area added to the patio then try to cram patio furniture into too small of an area.
It may not be as costly as you think to add a bit of area to your patio. With a little creativity, it could be a bit different look then the existing and add to the conversation area's uniqueness.
Pick out the set
Now this is where things can get tough. There are so many options here it is mind boggling.You could put together your own outdoor patio conversation sets by obtaining separate elements from different sources, making the furniture a conversation piece all of its own.
You could visit local big box stores and their counterparts. Just look for comfortable seating with small tables that can be arranged to encourage conversation by slightly facing each other with a view of your particular conversation element, such as a fire pit or water feature.
There are also tons of places online. But you will not be able to sit in it to test it out. Even though, many of these sites offer plenty of comment and review from people who have purchased these items and you can get a good idea of the quality and comfort from reading these, or ask a question you may have, in some cases.
Don't forget umbrellas. They are extremely useful for protecting us and our furniture from some outdoor elements to which we will be exposed. These can also be a creative conversation piece, as there are also many styles and types to choose from.
Shelter
Since our patios are exposed to natures elements, many of us choose to have some type of shelter placed somewhere on our patio. These can be simple canvas topped, metal framed structures to elaborate wood framed gazebos. There is no wrong choice.
A more simple structure can be used for the sole purpose of sheltering our outdoor patio conversation sets. We can get more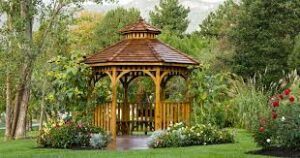 elaborate and have a wooden trellis topped structure or gazebo, sheltering our conversation area as before or becoming their own conversation piece structure placed nearby.
Placing potted and ground planted plantings in and around these structures can add to their beauty and make them pop. You could even set up two separate areas to take advantage of the different sun and weather conditions. Maybe even an elaborate setting in one area and a more simple setting in another, which compliment each other.
In closing
The idea here is to make an area that you will want to use. Make it comfortable and pleasing to the eye, and you may never want to leave. Themes are a big thing people use to remind them of pleasant leisure times they enjoy. Placing items that remind you of favorite vacation spots will help to ensure that you are always relaxed on your patio.
Most of your yards features can be used as creating themes as well. When you have a garden nearby, perhaps you could keep some of your bounty displayed or use wicker and basket type items in unique ways. Extend the things that make you happy on to your patio.
Going to yard sales is a great place to find accessories for your patio. They can be full of old items that remind us of things from our past that we enjoyed. The main thing is we want to create a space that is not only an extension of our home but an extension of our personality which we can share with our friends to encourage fun conversation with the people that we love.
Don't make it a task, creating this space. Simply keep your eye out for things you enjoy and incorporate that into your patio's theme. Have fun, relax, ENJOY.