One of the easiest things you can do to get your patio updated and more comfortable is to purchase a COSIEST outdoor propane fire pit table.
Here's what you'll get
These come completely assembled and ready to go with the installation of a 20 lb. propane tank  ( not included). These are the same tanks that are used with a typical barbecue set up. So Installation is a snap. Here's a quick overview:
---
 COSIEST  Outdoor Fire Pit Table
35″ w x 35″ l x 19″ h
Fuel: LP
Warranty 1 year parts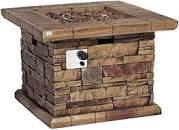 Retail Price   $ 629.00
BTU  50,000
Best Price     Amazon
Here's what you'll enjoy
Straight out of the box and your staying warm and relaxed after just connecting your 20 lb. hidden propane tank. The unit comes with lava rocks or you can purchase fire glass, sold separately for a more appealing look.
The unit is a hefty 109 lbs. but not too heavy to move if the need be. Easily accessed flame controls keep your flame controlled just right.
You'll be sure to get a little extra time on your patio with the warmth from your COSIEST. The outdoor propane fire pit table is built to last from sturdy, fire retardant magnesium oxide with a stainless steel burner bowl, low maintenance and resistant to heat.
Clean burning propane gas insures you wont have to duck away from a smokey fire. It comes with a waterproof cover to keep your outdoor propane fire pit clean and dry when it is not being used. When using a firepit on your patio or deck you do not want to spend a lot of time starting fires. LP propane firepits will give you a quick starting fire without any of the accompanying smoke like a wood fire would.
---
The finished metal surface is resistant to stains to keep the beautiful stone-like finish  looking good for years to come. Real stone is great and there is nothing quite like it. This product features a metal simulated stone surface so clean ups are easy and it will always look great.
It is  more costly than some other firepits,  but if your searching for something that looks a little more traditional and delivers more warmth with its 50,000 BTU rating than this may be what you are looking for. Check it out here.
---
Here it is
So lets recap. It gets shipped free to you. You take it out of the packaging and place it exactly where you need it. You hook up your fuel source quick and easy, push a few buttons and start the fire and your in business for years to come.
I welcome your comments or questions. If you have purchased this item please let us know how you like it.
Thanks Rick