Glenville Water Pump Cascading Water Fountain
A very quick and easy way to make a little more relaxing enviroment on your patio is to place a small water feature item somewhere near to be enjoyed by all. Glenville water fountains has produced a unique little item that can be easily set up on your patio within a few minutes to get you headed in that direction.
Dimensions 15″ w x 15″ l x 32″ h
Weight 22 lbs.
Power Electric plug in 16 ft. 110V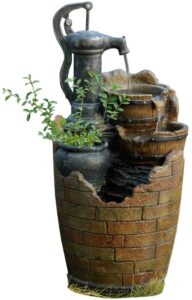 Outdoor / Indoor poly resin & fiberglass construction
Warranty Available on Amazon at check out

---
What you get
Straight out of the box you have some small amount of assembly as discussed below. The piece body consists of a brick constructed urn with a large chip along the top rim. Inside the urn is an old style hand operated well pump with a warm patina. Water flows from the pump into a wood hoop basket then into another wood hoop basket. From there into a pool of water inside the brick urn. There is a smaller urn inside that can be used for plants or other accessories. All have beautiful, handcrafted detail.
Your particular outdoor setting will be quickly enhanced and sure to be noticed. This little feature is sure to get comment.
---
Set up
The pump handle twist locks in place and a piece of tubing is connected to the pump. Water is filled from the back and the flow is adjustable. Water cascades gently from the pump to a basket and on to the bottom, producing a calming water flow auditory delight. Keep in mind, this could also be used indoors and we could all use a little anxiety reducing setting at this crazy time.
You will need 110v GFCI electric outlet somewhere within its 16 foot cord length.
You can easily accessorize your Glenville water fountains with plants, real or imitation, and any other knickknack or lighting feature you like. Very intricate, handcrafted detail in creating this beautiful piece.
This piece will require some maintenance. The water should be changed periodically to prevent debris from causing clogs. Same goes for cleaning. The pump should be flushed on occasion and the pump filter, brushed clean with a soft brush. This is all to ensure you will be getting the most out of your Glenville water fountains. All of these tasks are easily accomplished. In cold climates, you will need to empty the water and store it inside.
---
A little background
I have a pond that I created in my yard near my patio. It has a waterfall that cascades gently over rocks and into the pond. The sound is not over powering, which is important, as you want to be relaxed by the gentle background sounds. I will discuss the construction of these ponds in future posts, but just wanted to pass on the enjoyment I get from this larger feature with a low volume water flow sound.
It is an immediate stress reducer to kick off your shoes on the patio, sit down with a favorite beverage and relax to the soothing sounds of the flowing water. Kind of makes me want to go out there right now, but it's a little cold yet here in upstate New York.
On weekends, I am usually mowing my lawn and doing other yard chores. The patio is always my retreat to grab lunch or a brief snack. Countless times I have nodded off while getting lost from the days pressing needs. The effect of the splashing water quickly washing away all angst.
---
Up front or in the background
You can use the Glenville water fountains as a centerpiece in a landscaping arrangement. Get creative here. Spring is here, warmer weather will soon arrive. Make a small rock garden or flower bed incorporating the theme of this pump. Its rustic image fits well with most any landscape design.
Place it at the entrance to your gazebo or pergola to entice visitors to come in and relax. Place it near an ice bucket full of cold drinks to direct party guests to their refreshments.
Take a look at some video to see how easy it really is to add a little more flavor to your oasis.
---
A little more
This item is priced very competitvely with similar items of similar quality. Combine this with the fact there is very little labor necessary to begin enjoying a new addition to your patio and this makes for a great way to give your patio a refreshing little lift.
There is really not much more to say, simple is simple. The whole idea here is to get something that gives us a little joy and a brief respite. If you would like to see some video or more comment check it out on Amazon here.
.