Here is a little topic that I think will address a solution for many of us on a cost scale that will not break the bank. In previous articles on shade structures I neglected the cantilever patio umbrella. So let's focus on the versatile and intriguing patio fixture.
What are Cantilever Patio Umbrellas ?
This seems like a simple enough question but the fact is there is a big variety of styles and types available today. I'm sure that most of you are familiar with the umbrellas that are used on our outdoor dining tables. These are pretty simple and straight forward. So let's focus on the off set cantilever style.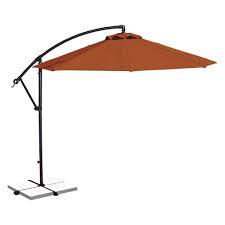 The basic cantilever umbrella consists of a base mounted pole from which an outstretched arm is attached. The umbrella is hung from this outstretched arm providing an unobstructed area for use below the canopy. According to the model you have there will be varying amounts of adjust ability for getting the shade where you need it.
A typical assembly
On a side mount cantilever umbrella you will start with a weighted base to which you affix the pole and umbrella assembly. It is very important that you use a weighted base to keep the umbrella from toppling over. Keep in mind when purchasing such an item that they do not always come equipped with such a base.
On a typical cross bar base it will be possible for you to drop the weights down on to a fitted area with ease. A lower pole section will usually be attached to the cross bar base. The upper pole and the rest of the umbrella assembly can then be attached to the lower pole. You will then simply slide out the cantilever arm and crank out and adjust your umbrella. A typical set up can be watched by clicking here.
This process is for one of the simpler models but even the more heavy-duty models will be set up in a similar fashion. The canopies of many of these umbrellas encompass an area of around ten feet. It is possible to find some in larger sizes. Many of the available umbrella styles will also have more range of motion such as side to side as well as tilt function.
Why and when do I need a cantilever patio umbrella ?
The biggest advantage that a cantilever umbrella will afford you as compared to a center pole model is the freed up space. You will not have to work around a pole coming right into the middle of your protected area. With the pole out of the way and off to the side you can set up your seating area however you like. This set up will also allow you to get the shade where you need it most by just making the needed adjustments to the canopy.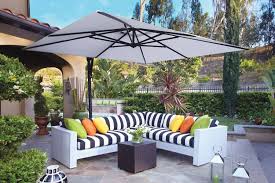 These umbrellas are quite portable and can be moved into position effortlessly, in most cases to where ever they are needed. Wheels are incorporated on some models with extremely heavy bases for more portability. You can bring the shade to you when using a cantilever umbrella. We all know how elusive that can be at times.
Many of the models produced today make use of solar led lighting on the under ribs of the umbrella. This is a nice touch for creating a more comfortable atmosphere.
What about the wind ?
I know that many of us have concerns about their use in windy conditions. Most of these umbrellas can stand up to use in winds below 15 mph. Some models are equipped with special elements to make them more resistant to the effects of the wind. The best policy is to stow your umbrella when not in use or when you are not going to be around. By cranking your umbrella closed you will ensure that it cannot get extremely damaged in high winds. Most models are made to be stowed with ease.
What should I look for ?
Many of the umbrellas come with wind ratings. It is up for debate as to their reliability to predicting real world results for real world conditions.  Focus on searching the models that are built with wind resistant technologies, should the wind be your focus on purchasing one of these products.
An umbrella that is going to stay in one area should be one that has a lot of adjust ability. You will want to be able to keep your self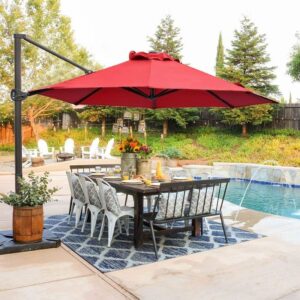 protected from the sun as it changes its position throughout the day. On the opposite side of the spectrum, if you wish to be able to bring shade to different areas as needed , then you should consider a lightweight easy to move model.
A cross bar base will be the typical configuration on many of the cantilever patio umbrellas. You need to have a weighted base in all circumstances. Since the base configuration is so similar you can find weights of wide-ranging materials and style most anywhere that sells the umbrellas.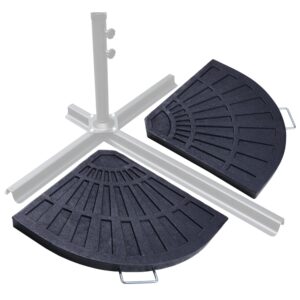 The larger umbrellas with a bigger canopy profile will require the use of more substantial bases. These can be a large container to which you add sand or water for increased weight. The bottom poles are attached to this base. Think about the typical backyard basketball net set up. Some of these bases use wheels to add mobility.
A few other options
There are also umbrellas that resemble the typical dining table variety, however they open up to form a double-sided canopy. This will provide shade to a larger portion of your desired focus. A thirteen foot x 6 foot canopy is easily found in this type of umbrella.
So the next time the sun is pestering your comfort while relaxing on your patio. Be sure to take a look at this option. This is a real quick and easy way to make your patio experience a little more relaxing.
I would love to hear any comment you may have on this subject. Please leave any you may have below, It would be great to here your experiences on this matter.