Zero Gravity Reclining chairs technology was developed by NASA to put astronauts in an optimal position during liftoff to reduce stresses placed on their bodies. What better place to enjoy this beneficial piece of furniture than when we are relaxing on our patios and decks.
What exactly is a zero gravity chair ?
Zero gravity reclining chairs allow the sitter to elevate their legs to the same level as the chest. This is the same position that astronauts are in during lift off to spread the increased pull of gravity over their entire bodies. The outdoor variety looks very much like a folding lawn chair.
These chairs are very portable and can be taken by you to many outdoor activities. When sitting in a zero gravity chair, in the reclined position, the pressure on your lower back is decreased.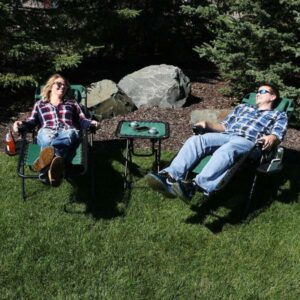 Although the reclined position is optimal for relieving back pain most of these chairs will lock into various positions from full recline to upright.
Many of these chairs can be purchased for less than one hundred dollars. They come equipped with different amenities such as head rests, cup holders and arm padding according to your needs.
How does a zero gravity chair work ?
The main idea in a zero gravity chairs beneficial use is to put your body into a position that allows for decreased stress on your spine and aids blood circulation. In the reclined position your body weight should be evenly distributed across all pressure points. In reducing pressure on the muscles around the spine we are reducing the stress on our vertebrae. This chair helps our spines achieve its natural s -shaped curvature, its most neutral position.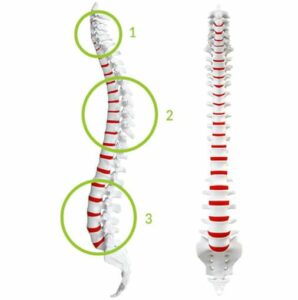 These chairs can also promote better circulation. In having the legs elevated to near even level with the heart allows our blood to flow more freely, reducing strain on cardiac muscle. This can help reduce the effects of high blood pressure, varicose veins, diabetes and other afflictions. A reclined position will also help the lungs to work at full capacity. This will help ensure that much-needed oxygen gets distributed to our achy sore spots.
When you recline in your zero gravity chair you are placing your body in its most neutral body posture. All external pressures on your body are evenly distributed. Studies by the Research Center for Sports and Healthcare Technology at Ritsumeikan University have shown that this is the ideal posture for physical relaxation.
By placing our bodies in this heightened sense of relaxation we are allowing them to heal us in body and soul. Muscle tension and pain in our necks and backs can be relieved allowing us to get much-needed energy recharging. An open angle between the torso and thighs allows the diaphragm to more fully expand. This fuller expansion allows our lungs to receive more oxygen to be used in replenishing our bodies.
Outdoor Zero Gravity Chairs
What more natural setting than using a zero gravity chair than in the tranquility of our outdoor spaces. Relaxing on the patio on a weekend is the perfect time to put one of these chairs to their best use. Fortunately for us there are many companies that make zero gravity chairs for outdoor use.
At first glance it will be hard to determine a zero gravity chair from a folding lawn chair.  They fold up to make transporting them hassle free. The metal frame of these chairs allows the user to adjust the chairs to several lockable positions including the zero gravity position.
A UV and weather resistant fabric will be attached to the metal frame by some type of elastic bungee in several areas similar to the way that a trampoline fabric is attached to its frame with springs. This will allow for the pressure free floating experience of the chair.
Amenities like removable head rests and cup holders are provided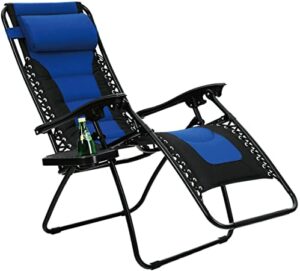 on most chairs to increase your comfort. You can spend a little more and get features like padded fabric liners and ease of use features like making the position adjustment more easily.
Zero gravity chairs are available in many colors, so there are sure to be some that appeal to your tastes. Different chairs from different makers will have varying weight limits so be sure to pick one that suits your needs. Many of the chairs also offer replacement bungees to keep your chair in optimal form.
Put one on your patio
Upon getting one of these chairs to your home you should not be expecting a lot of assembly. At most, you should only have to attach some removable items. Most of these chairs will weigh in the neighborhood of 20 to 23 lbs. Although they are designed to be portable, they could get a little heavy if you are going to carry it a long distance.
Some of these chairs come equipped with small sunshades to give you a little extra comfort in the sun. Placing one under your gazebo or other shade structure will probably give you the most comfort. You can find these chairs available in sets of two to get you and your significant other in comfort together.
There are many other positions to place the chair in for other times. Like when you just want to sit outside reading your favorite book or magazine. Lean back just a little to get a quick relaxing break when working outside at your home. Place in zero gravity position when you just need to ease the pain or stress on your body and rejuvenate a little.
All in all you should not have to spend a lot of money to bring some increased level of comfort into your life with one of these products. Many manufacturers will give you some type of warranty to help you choose one of their chairs.
Do you own a zero gravity chair ? If so I would love to hear of your experiences with your particular chair.  Leave comment or questions in the section below. That way we can all share all in your opinions on a zero gravity chair.