In this post I would like to review a more traditional style fire pit. This Sunnydaze fire pit has an old school look and will be at home in most patio decors. Just assemble it and add wood and your ready to go.

Sunnydaze 36 Inch Large Bronze Crossweave Fire Pit
This Sunnydaze fire pit is round with a cross weave, open air side design. It stands 16 inches tall without the included fire screen. The pit is made from steel and finished with a high temperature oil rubbed bronze paint finish. The total weight is 29 lbs. and the steel is 1.7 mm thick.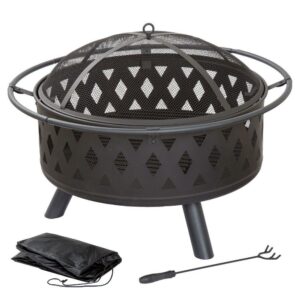 This item comes with a 30-inch fire screen, a poker, built-in bottom grate and a protective vinyl cover for when not in use. This product should not be used on wood decks without a protective fire proof pad beneath it. The pit has a protective ring around the top edge to decrease the risk of burns.
The log holding area has actual dimensions of 31 inch diameter x 11 inches deep. This should provide ample area for long burning fires. The product comes with a one-year manufacturers warranty.
What is delivered to your home
This Sunnydaze fire pit comes to you un assembled. The assembly is not overly complicated and you can watch a video of the process by clicking here. It is finished with a high temperature black paint with bronze accents. Once assembled you are ready to go with spark cover and poker included for ease of starting and maintaining your fire.
The side pattern with its many openings will be sure to provide your fire with ample air for good combustion. One of the difficulties in maintaining a decent wood flame is that they do not get enough oxygen when they are too closed in. The protective outer ring should aid in preventing you from coming in contact with the hot metal surfaces of the pit chamber. Always use extreme caution when accessing a wood fire pit for adding more wood or attending to the fire.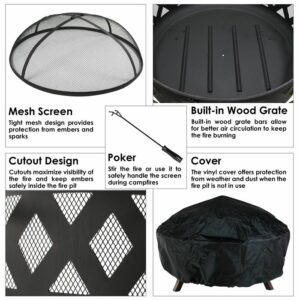 To me the ambiance of a wood fire is just not matched by other types of fire pits. The use of wood as a fuel source makes it easy to always have a fire available. Wood fires can also be used in combination with some plant materials to aid in the process of repelling insects.
Most reviewers agree that the size of this pit is more than ample and will allow for the gathering of around 8 people around it.
How does this Fire pit stand up in use
As with any wood fire pit, as you use it more and more there will be issues with rust. It does help that this unit comes with a vinyl cover to aid in protecting it from the elements when not in use.
Starting a wood fire can be challenging, hence the gain in popularity of gas fired appliances. The smart open air design of this particular product will ensure that starting your wood fire is not compromised any more than need be. Once you have your fire going its ample air supply should keep you enjoying the flames with as little attendance as necessary.
The cover included with your new fire pit will keep sparks from escaping without hindering the appeal of the visible flames. Care should be taken about if and when it is safe to operate in windy conditions. Some reviewers complain that the size of the poker is too short but it works well for removing the top cover in order to attend to the fire.
Many times the biggest gripe about this type of wood burning fire pit is that they are not big enough. It seems most reviewers do not find that to be the case with the Sunnydaze 36 inch. Although there will be some cosmetic issues over time, many reviewers also find that it holds up well to use.
The assembly consists of attaching the three legs with three bolts each to the bottom of the fire pit. The four piece protective outer ring needs to be attached to the upper edge of the fire pit bowl. Reviews of this process indicate that it can be accomplished in under one half hour.
Put it to use
Upon receiving this product and assembling it, decide where you would like to use it. Keep in mind it cannot be used over flammable materials without fireproof protection. A wide open area without trip hazards will be the safest place of use. You will also not want to place it too close to your home, particularly near vinyl siding.
I have found that the easiest way to start a wood fire is to start with small pieces and gradually work your way up to your larger logs. Kindling wood is small thin strips of wood or twigs that will ignite quickly when placed in tee pee fashion over crumpled newspaper. Once you have a decent flame, place larger sticks or split pieces of wood on to the fire so as not to smother it. Continue until you can place your logs on without knocking down your flame too much.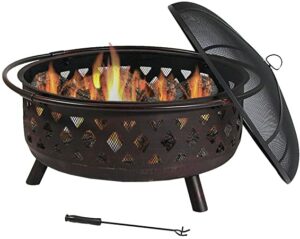 Once you have a wood fire going I'm sure you will bask in the satisfying accomplishment. Sit back and enjoy it with your friends and family. Break out the smores, hot dogs or whatever and enjoy the company around this primal attraction.
What do you think ?
If you have had any experience with this or a similar product and you would like to discuss it here please leave any comment or questions in the section below. As with any of my posts I am always looking forward to any of your input or suggestions. Enjoy your self. Also you take a look at the ratings for the Sunnydaze 36 inch Large Bronze Crossweave Fire Pit below.