Room Air Purifiers are a simple way to make the air we breathe while in our homes more palatable for our family. Choosing a model can be a daunting task. I have scoured the internet and chosen a few models that are popular and have ease of use features. I hope one of my choices for these Room Air Purifier Reviews may make for a good fit for you and your family.
Coway AP-1512H

This small unit packs a big punch and has headed a few lists of best air purifier reviews. If a smaller efficient unit is what you are searching for, this may be for you.
SQ. FT. Area 361
CADR
Dust. 246
Pollen. 240
Smoke. 233
Noise. 24.4-53.8 dB
Filter. Four stage filtration with pre-filter, true HEPA, Deodorization filter and Vital Ion
Features
Pollution Sensor displays the cleanliness level of the air with LED lights. This model has 3 fan speeds with auto and eco modes to keep things as quiet and economical as possible. There are filter replacement indicators for the pre and HEPA Filters.

Dyson Pure Cool™ TP04 Air Tower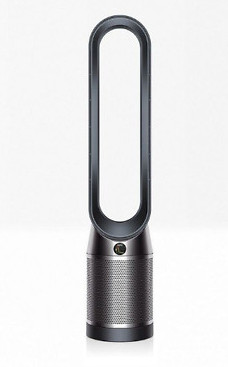 This model handles similarly to the Coway. This purifier also oscillates to move the air efficiently about the entire room.
SQ. FT. Area 300
CADR Dyson does not report CADR scores
Noise 40 – 62.2 dB
Filter Two stage filtration with a true HEPA filter and a carbon activated filter.
Features
Ten fan speeds and 350 degree oscillation ensures this model will move plenty if air. The Dyson automatically detects and reports air quality levels in real time on a unit display. This model senses, captures, projects and reports air quality information to your Dyson Link App.
Voice control using Amazon Alexa app. Certified asthma and allergy friendly by the Asthma and Allergy Foundation of America.

NuWave OxyPure Smart Air Purifier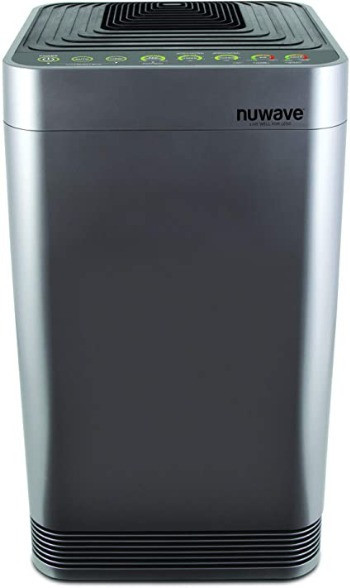 This machine is built to handle larger areas.
SQ.FT. Area 1200
CADR
Dust. 346
Pollen 369
Smoke 332
Noise No decibel ratings available.
Filter This unit features five stage filtration. Filtration begins with a stainless steel, cleanable pre-filter. This is followed by a Bio-guard filter, an ozone emission removal filter and a HEPA/Carbon filter.
Features.
The Nuwave promotes very healthy clean air through its unique filtration system. 99.99 percent bacteria and 99.96 percent of viruses are eliminated within two hours of detection. The Nuwave turns on when air quality calls for it and adjusts its six fan speeds to most efficiently clean the air as needed. You can operate Nuwave's features from your smart phone with the Nuwave app.

Whirlpool Whispure 510 AP51030K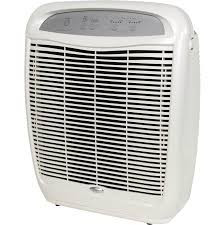 This model is made for handling medium to large size rooms. It is manufactured by Whirlpool, a long-standing appliance manufacturer.
SQ. FT. Area 490
CADR
Dust 325
Pollen 401
Smoke 315
Noise 43-44 dB
Filter Two stage filtration with an active carbon pre-filter to trap the larger items before they reach the second stage true HEPA filter.
Features
This purifier operates very quietly and has a four speed fan and a sleep mode. This air purifier does not have a lot of bells and whistles but it filters the air very effectively. It has timers and sleep mode for shutting it down during quiet times in your home.

Honeywell HPA300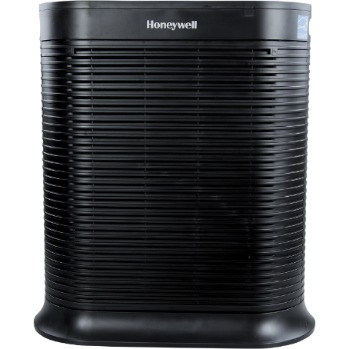 The Honeywell HPA300 is for larger rooms handling up to 465 square feet. Manufacturer claims of 5 air changes per hour in a 465 square foot room.
SQ. FT. Area 465
CADR
Dust 320
Pollen 300
Smoke 300
Noise 48.3 – 71.2
Filter HPA 300 features two stage filtration with a carbon activated pre filter and a true HEPA second stage filter.
Features
The Honeywell HP300 does a good job of cleaning the air in large rooms fast. The unit has filter change reminders and automatic shut off settings. Honeywell has been the number one recommendation of allergists in some past surveys.