Sitting on your patio, you like to be as comfortable as possible. Its nice to have at least a couple of chairs you can fall back on whose main purpose is your comfort. In this post I will take a look at a pair of outdoor swivel rocker chairs and you can see if they might suit your purpose.
Lebanon Club Patio Chair With Cushions (2 chairs) THPS1714
I searched around looking for a chair that looked like it was built mostly for your comfort. This set seems to fit the bill, so let's see what we get with this purchase.
This comes as a set of two. The metal frame is cast aluminum with an antique bronze finish. Each chair comes with thick, detachable polyester / foam blend cushions. The stated color of the cushions is sesame and appears to be a light beige. Both chairs have a rocking and swiveling action. The chairs can support a weight of up to 250 lbs.
The total weight of each chair is 35 lbs. Chair cushions are 4 inches thick. Overall dimensions of each chair are 35" H x 29.5" W x 31" D.
You will be required to perform some assembly on the chairs. You can return most items for a refund or store credit within 30 days of delivery. Return shipping costs apply, and the item must be in its original condition and packaging to be accepted.
These chairs are shipped free with different shipping options available depending on your location.
What is shipped to me?
When your two chairs arrive, you will have to do some assembly. The base needs to be attached to the bottom of the seat. There are not a lot of parts involved and most reviewers found it to be a fairly easy assembly process. There is an assembly service available for extra cost at check out.
Once you have the base attached to the chair, simply place on the cushions and tie them to the frame. Your patio chairs are now ready for use. These chairs are big and comfortable. They swivel in a circular motion from side to side and also rock back and forth for a relaxing patio, deck or pool side experience.
Chair cushions are water resistant, not waterproof, so you may need to use covers if you are not placing your chairs under some sort of shelter. My experience with these type of cushions is that they do dry rather quickly after getting wet. You can expedite the drying process by untying them from the frame and setting them on edge on the chair seat frame. This allows the water to drain out of the cushion more quickly.
The fabric colors will fade over time with exposure to the sun. The assembly instructions are a little bare but it is not an extremely complicated assembly.
Lebanon Club Chairs Daily Use
These chairs have nice thick cushions and are described by most as very comfortable. Their neutral beige color will fit in with many outdoor decors. Many reviewers describe the chairs as solid and durable.
These chairs could be your go to choice for when you just want to ease back and take a load off for a bit. I love having my outdoor rocker available when coming home after a hot day at work or out doing yard chores. Sitting in the shade in my comfy chair definitely helps to reduce stress and ease tired muscles.
Many a time I have dozed off sitting in my chair on a relaxing Sunday afternoon. Me and my wife enjoy watching the world go by from the comfort of our patio chair with Dinner on the grill.
All materials are weather resistant. Aluminum frames will not rust and the fabric will fare well in most outdoor situations. The price is up there a bit but they are a quality item.
Style
The aluminum frame with its antique bronze finish will fit in well with most patio schemes. The arm rests dip and roll over on the ends for your comfort. The chair back support features decorative design for a little added flair. A circular base provides adequate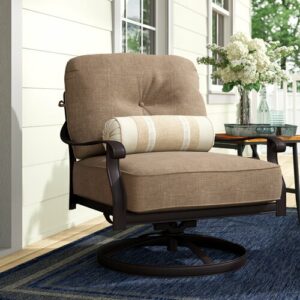 stability and is tucked in beneath as to be unobtrusive.
Thick sesame color cushions are inviting and the back rest is pleated with one button. All in all the pair should easily find a place in your outdoor setting.
In Closing
This pair of chairs will set you back a bit. But I think you get what you pay for here. They  are reviewed by most purchasers as very comfortable and sturdy. The aluminum frames should hold up to outdoor use for many years.
The assembly seems simple but a bit confusing. Better instructions would certainly help here. The added assembly service is a nice option to have available.
Let me know what you think about these items below. Anyone who has experience with thes chairs please leave comment below. It would be great to hear.